Copyright© 2018 - 2021 VideoVaultProductions.com | All Rights Reserved
Outdoor Events
There's no reason that a choice few of
your outdoor events audience should have
the best view, just because they are
closer to the event or stage. With our
LARGE LED Video Screen Wall, your event
can be viewed by the widest, most
appropriate audience.
Our outdoor LED Video Screen provides
the highest level of accessibility for live
events. With a mobile LED Video Screen
rental, you can turn your event from an
ordinary blasé type old school event into
a more modern vibrant event. Increasing
the accessible view to your event and
greatly increasing the events benefits to
your audience via our LED Video Screen
rental, directly equates to the event and
it's success. No matter what type of event
it is.
Live HD Camera Feeds
What sets us apart from other mobile LED
video screen companies is that we're not
afraid to push the envelope or think
outside the box when it comes to
recording your event.
Our professional camera and audio video
tech crew can stream the event feeds
directly to our LED Video Screen or
internet. We can record and archive your
event for internet streaming or DVD / CD
duplication for disc sales.
We always strive to incorporate the latest
technology for the success of your event.
Whether it is a sporting, corporate,
political, concert, non-profit event, or
small-town festival, rest assured that we
will supply a pristine live HD video signal
for your viewing pleasure!
A Sponsor's Best Friend
Don't just fit our LED Video Screen into
your budget, use it to attract more
sponsors. Whether you're a local sporting
event, Christmas tree lighting, non-profit
event, or small-town festival, our LED
Video Screen can work for you.
Our LED Video Screen can actually pay for
itself by running sponsors ads directly
onto the LED Video Screen. Our services
are proven to allow your sponsors
maximum exposure while also offering
entertainment value.
Our LED Video Screen is a outdoor visible
TV. Let your imagination run wild. We
can offer signage opportunities on our
screens and we can help you with any
helpful hints on how to acquire that big
sponsor, in addition to creating their ad if
needed.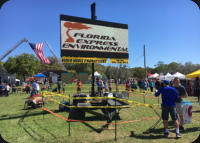 LED Mobile Video Screen
We'll drive in, raise the LED Video Screen
from our trailer, and set up our audio and
video cameras (if needed) in mere
moments. Give your outdoor event
audience the WOW factor they deserve.
Rates
Please contact us to rent one of our
outdoor weatherproof Mobile LED
Video Screen. You will find our rates
are very reasonable. If you are
looking to inform or entertain your
audience with dazzling images and
clear messages, this is the answer
to your event needs at any time of
the day or night.